Hue – Magnificent Ancient Capital
Hue Ancient Capital of Imperial Vietnam , its surroundings are covered with impressive monuments, temples and palaces. The residents of Hue – they are known throughout Vietnam for the way they speak Vietnamese, their traditional style of dress and their food, which without a doubt is some of the best Vietnam has to offer.
The city is split by the Perfume River, with the imperial city and markets to the North and the newer buildings of the city of Hue to the South. Hue remains a relatively small town, and getting around is easy enough, whether by bicycle, cyclo or motorbike.
While the Imperial city is a fantastic place to explore, your visit to Hue would not be complete if you didn't explore the huge array of tombs, temples and ruins in the countryside. You can also spend a beautiful day taking a boat trip up the river, and while it is possible to see several monuments and pagodas from the water's side.
ITINERARY
We will pick up you at your hotel or your apartment in Hue city and transfer to the boat station. The Dragon boat will run along the Huong river for you to sight the view in the morning – Huong River is the big river flowing through the centre of Hue city, it is famous for its poetic beauty. Huong River associates with cultural life of Hue. All forms of traditional culture such as ca Hue, row skiff racing… are intact. While you are attracted by beautiful scenery, the boat will bring you to visit Thien Mu pagoda – ancient architecture adds its charm to this beautiful natural setting. The sound of Thien Mu bell is like the soul of Hue, ever resounding over the Huong River flow winding its way in front of the Citadel to the sea, resonating in the hearts and minds of the people and of visitors to Hue, the ancient capital.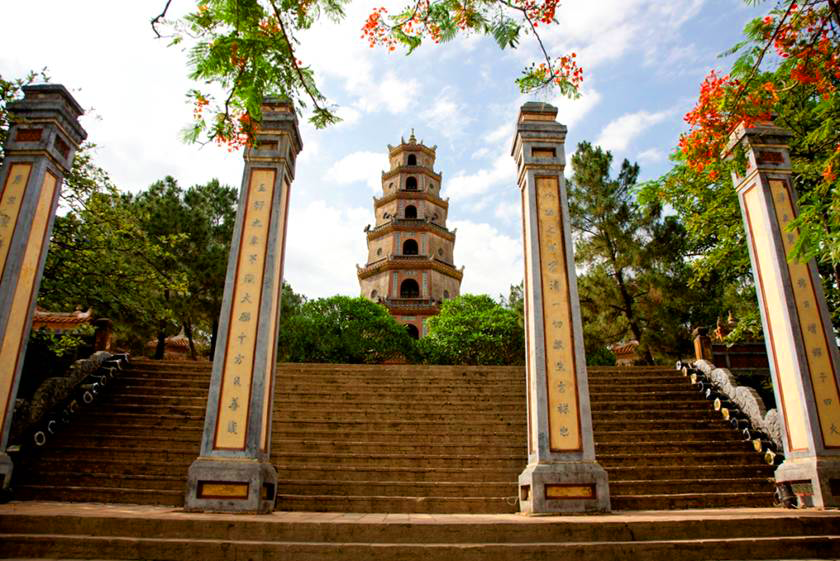 After enjoy the scenery of Huong river, the car will pick up you to visit another famous places in Hue city Tours such as:
Imperial Citadel – The home of Vietnam's last royal dynasty- the Nguyen Dynasty, Hue imperial citadel became the most massive structure being built in modern history of Vietnam involving thousands of workers, millions cubic meters of rock and huge burden of workload.
The royal Antiques Museum – A gallery of antiques displaying collection of bronze pottery, chinaware, Phap Lam enamel, court robes, head- gear and personal belongings of former Vietnam Emperors of Nguyễn Dynasty. This work has the architectural style "trung thiem diep oc" (sloping successive roofs), a unique palace architecture of Hue. The interior and exterior of the palace are decorated artistically, magnificently and exquisitely.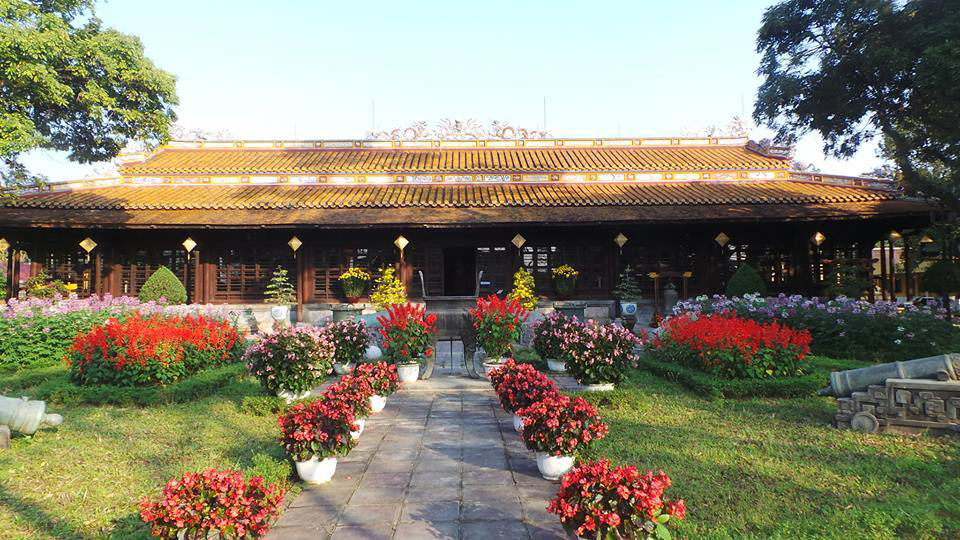 Dong Ba market – Dong Ba Market is the oldest of its kind in Hue, with hundreds of stalls selling household items, handicrafts, clothing and fresh produce at affordable prices. Dong Ba is not as noisy and boisterous as other commercial center but it retains the unique Hue feature instead. All of the most special cultural gifts and souvenirs can be found in Dong Ba market.
In the afternoon, after enjoy delicious foods in local restaurant with Hue specialty cakes: bánh Bèo, bánh khoái, nem lụi, bánh cuốn thịt heo, nem rán…and relax 20 minutes, we are continue visit Khai Dinh tomb – is the tomb of Emperor Khai Dinh, the 12th King of Nguyen Dynasty. The architectural work owns a harmonious combination between the European modernity and the Vietnam classical characteristics, which are recognized as world heritages by UNESCO.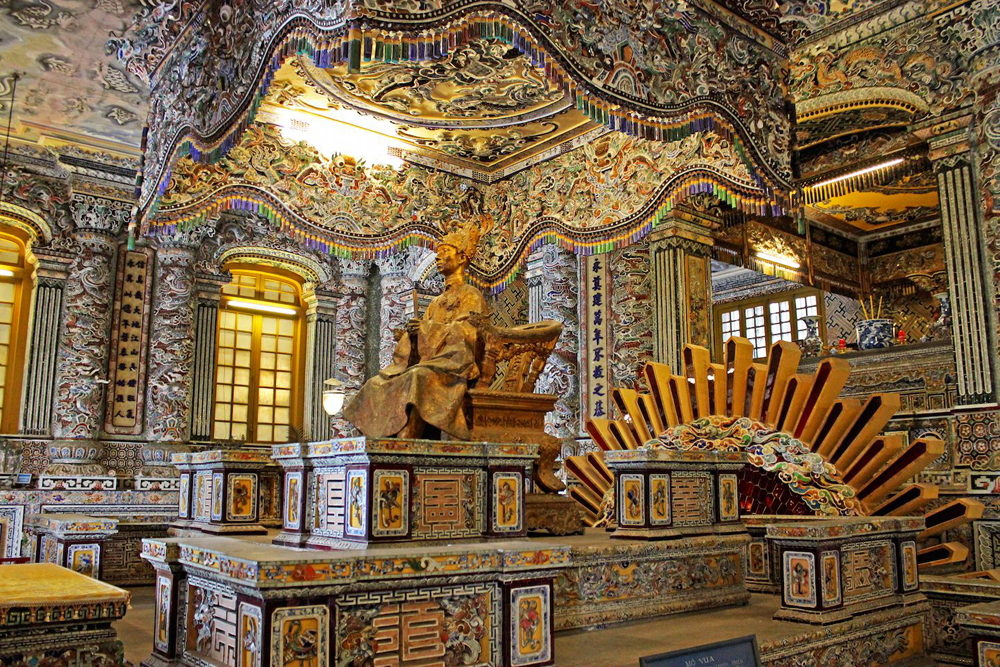 Minh Mang tomb was built from 1840 and completed in 1843 with the effort of ten thousand workers and artisians. It can be said that Minh Mang tomb is different from the rest of imperial tombs because of its archiecture. Minh Mang tomb offers a balance of nature and structures that is unmatched among tombs in Hue. This balance between landscape and architecture reveals a lot about personality of Minh Mang emperor and characteristics during his reign.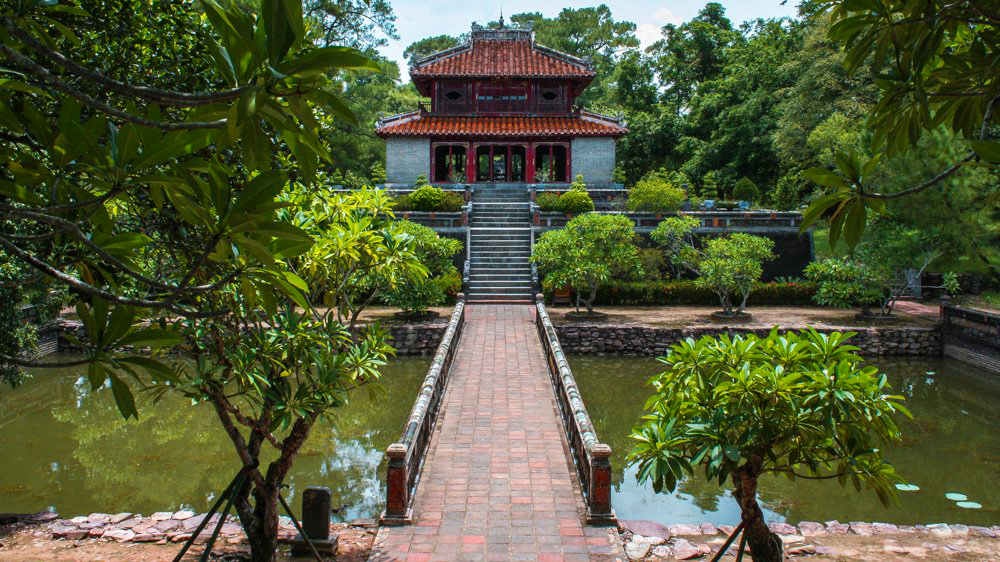 Another place to stop for a visit is Conical hat village is one of the most popular brands when referring the traditional villages in Hue. Over hundreds of years establishing and developing, conical hat village Hue is home to preserve the unique cultural beauty of Hue. Here, tourists have a chance to witness the meticulous stages and the craftsmanship of the artisans to create the conical hat filled with aesthetic and cultural features.
And you shall not miss to see Incense stick making village – fragrance shows its colors, Their incense sticks have many different aromas, including the popular agarwood, cinnamon and pine. The sticks are made are most colorful. They are usually dyed red, yellow or purple as the villagers believe incense should be both fragrant and beautiful.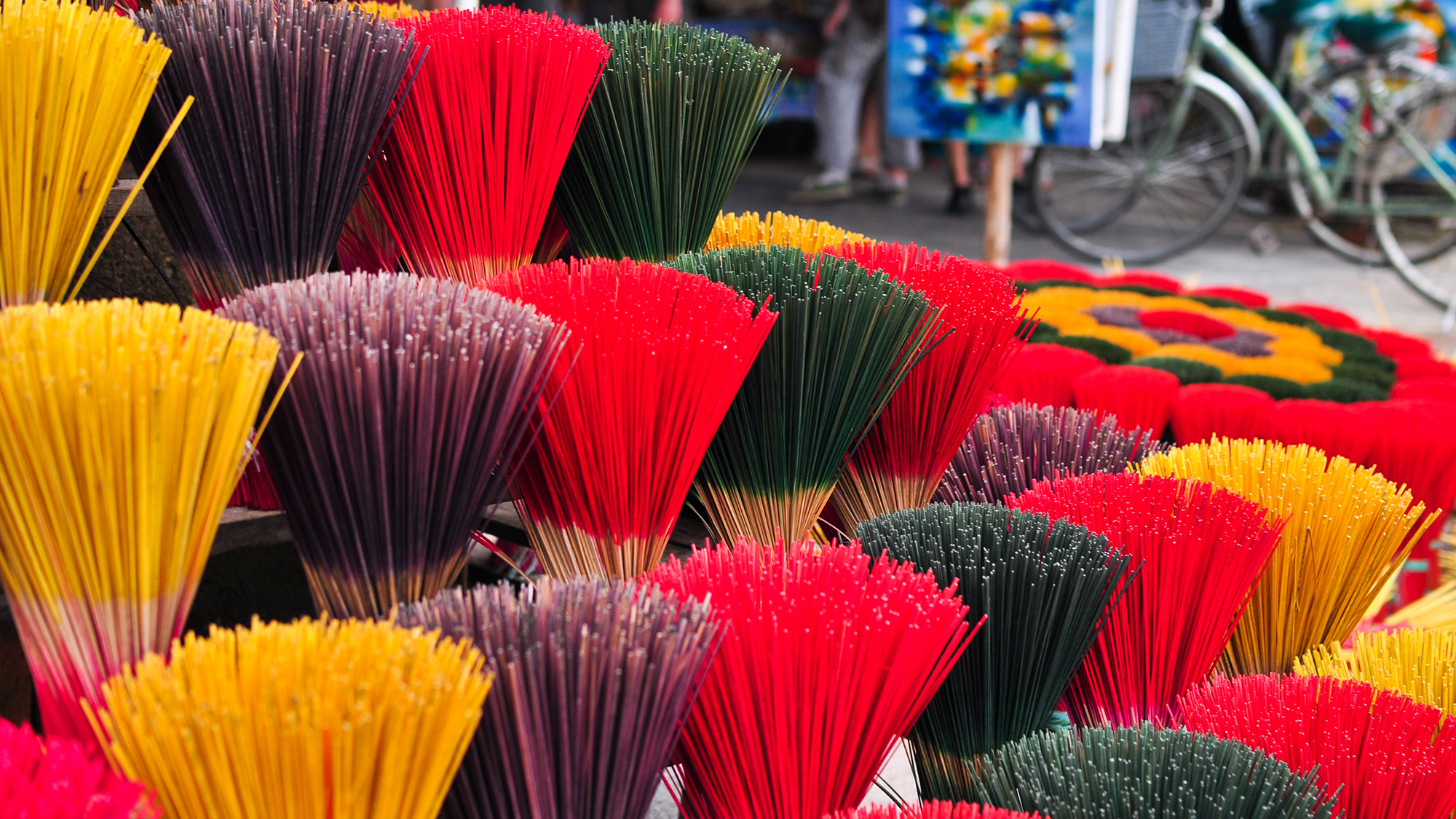 Surely overwhelmed by the magnificence of Hue ancient capital, it's time to say Goodbye but full of great memories and inspired by this ancient royal city.
Price per person
Minivan
$ 39 per person
Private car upgrade
1 pax
2 pax
3 – 4 pax
5 – 6 pax
117
83
68
59
(Seasonal prices apply and will be confirmed when booking! All rates are quoted in US$/person)
Tour price includes:
All transfers by either Minivan or private air – conditioned vehicles as per the itinerary
Experienced English speaking guide
Dragon boat trip on Perfume River
Lunch at local restaurant in Hue
All applicable entrance fees as per the itinerary
Mineral water (1 bottle / day / tour)
Wet tissue
Tour price excludes:
Gratuities and personal expenses
Any other service not mentioned in the above program
Peak season surcharge (if applicable)
Tips & VAT
The information of tour:
High quality as a private trip
Departure: Daily
Duration: 8 hours
Pick up & drop off: centrally located hotels or apartments in Hue
Pick up & drop off from Da Nang or Hoi An possible with Private Car upgrade
Starting time: 08:00 am
Maximum 10 persons on a group
No hidden costs