CO BA SAI GON – AO DAI DRESS TOUR
Hundreds of years and history, fascinating colorful Áo Dài dresses (spoken Ao Yai) still represent best typical Vietnamese clothing. The style, shape and favorite colors may of course have changed over the past centuries as fashion trends often change, but unchanged remains the beauty and elegance of these traditional dresses, both for women and for men. Whether worn in daily life or only for special occasions, Áo Dài dresses are indispensable from everyday life in Vietnam.
Inspired by the famous Vietnamese movie and song Cô Ba Sài Gòn we show you around to follow Áo Dài history and by visiting places and stores connected to this famous Vietnamese dress, because one thing is definite: Áo Dài is forever.
ITINERARY
You will be picked up at your hotel or your apartment and will start your tour by getting to know about hundreds of years of Áo Dài history. We will drive and visit the Áo Dài museum located little bit outside Saigon city center, surrounded by a wonderful and quiet park, which is by itself worth a visit and can be counted as an undiscovered spot around Saigon.
You will have a guided tour around the Áo Dài museum, learning about the dress history and seeing many beautiful and some historical famous Áo Dài dresses.
And also the 1968's did not pass by without influence on Áo Dài dresses and style in Vietnam.
Before returning to Ho Chi Minh City and heading for a visit at Tan Dinh market, also known as Saigon silk market, we will stop and have lunch in a nearby local restaurant.
At Tan Dinh market we will stroll around its narrow aisles giving you the chance to see hundreds of different fabrics materials and qualities for making nowadays Áo Dài dresses. The market visit also gives you the chance to watch market trading and/or to grab some Vietnamese food snack or fresh fruits from one of the street food sellers around this local market.
Having learned about history and experienced silk fabric materials for making Áo Dài dress, we will bring you to (up to 3 ) different Áo Dài tailor shops in Saigon, all of them famous in town for offering different designs, qualities and prices. We are happy to listen to your preferences which stores you are interested to visit, tailoring and buying. (If you only want to rent Áo Dài dress for taking photos, we offer the option to easily organize for you.)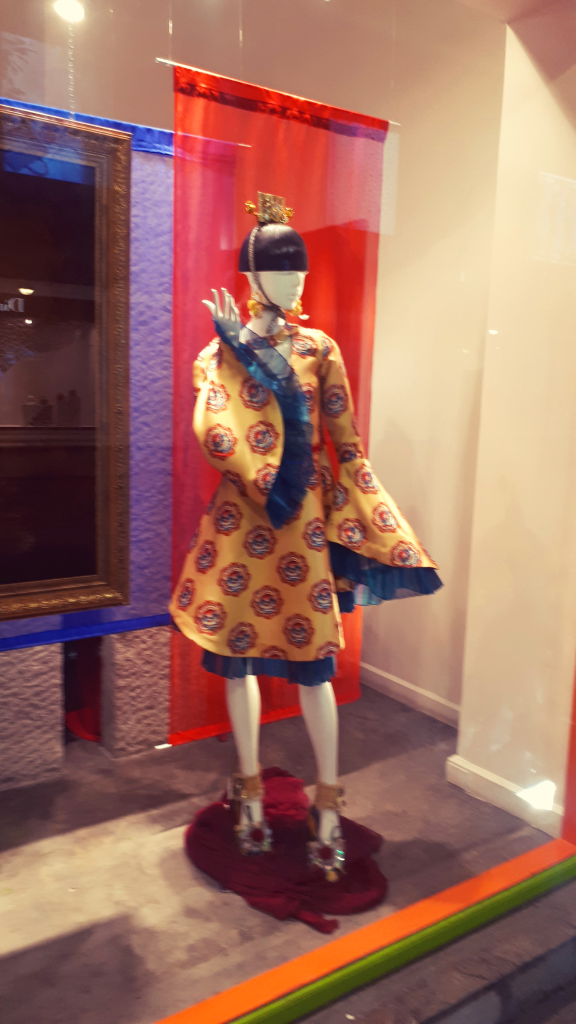 Besides Áo Dài dress, another traditional material standing for handicrafts in Vietnam is Bamboo. We shall not miss to give you the chance for getting showing you where to get a bamboo made accessory like a beautiful handbag or bamboo hat to fit wearing with your Áo Dài dress
To round up your Ao Dai day, optional visit we recommend to visit is the Ao Dai exhibition showing more than 100 original and restored artifacts exhibited formally as visitors have a thorough knowledge of the formation and development of the Vietnamese Áo Dài in each historial period
Certainly impressed by the time-less elegance of Áo Dài dress, at the end of the day we are sure you will understand to say: Áo Dài is forever.
See also website http://baotangaodaivietnam.com/
Price per person
Minivan
$ 69 per person
Private car upgrade
1 pax
2 pax
3 – 4 pax
5 – 6 pax
102
70
54
42
(Seasonal prices apply and will be confirmed when booking! All rates are quoted in US$/person)
Tour price includes:
Minivan or private air-conditioned vehicles
All applicable entrance fees as per itinerary
Experienced English speaking guide
Lunch at local restaurant incl. 1 soft drink
2 complementary bottles of drinking water
Tour price excludes:
Gratuities and personal expenses
Optional service or any other service not mentioned in the above program
Peak season surcharge (if applicable)
The information of tour:
High quality as a private trip
Departure: Daily
Duration: 6.5 hours
Pick up & drop off: centrally located hotels or apartments in Ho Chi Minh City
Starting time: 08:30 – 09:00 am
No hidden costs