Mekong Delta or Dong Bang Song Cuu Long is the region in southwestern Vietnam where the Mekong river approaches and empties into the sea through a network distributaries. Mekong Delta with beautiful sights and unique lifestyle has become one of the most visited tourist destination in South Vietnam. Come to Mekong Delta and enjoy 10 great things after:
Cruise on rivers and row sampan through small canals: 
There are always different feeling between travelling on the road and water. Mekong Delta is a region where boats, houses and markets float upon the innumerable rivers. The best way to explore Mekong Delta at its best is river cruise.
From the boat, you can see beautiful sights of lush orchards, green and yellow rice paddies, stilts in quiet villages and lines the coconut trees. You can see brick factory and coconut candy factory along the river.
In Mekong Delta, there aren't river but also small canals through gardens and villages. Rowing a sampan through zig zig canals under shadow of water coconut trees is one of the most interesting that any tourist shouldn't miss.
2. Plug fresh fruits in local garden
Mother nature gives Mekong Delta a wide range of tropical fruits such as plum, orange, mandarin, dragon fruit, mango, durian, jackfruit, coconut and rambutan…What's better than visit a fruit garden, listen to the story of the garden's host and plug ripe fruits by your hand. You have to use along pole to harvest plum, mango and rambutan, be careful with the thorns of the big and smelling jackfruit and durian. There are some coconut trees which is as tall as you so that you can plug the coconut trees easily. You can peel what you plug to enjoy the freshest fruits which you may haven't tastes before. It's just a play around the fruit garden to be a real gardener.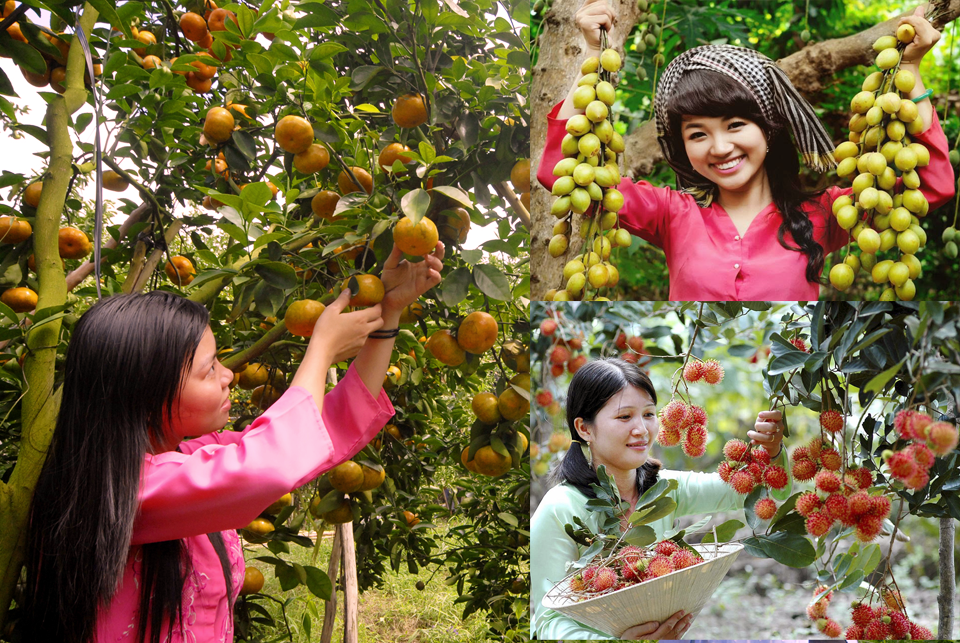 3. Visit floating market
Floating market is one of the most special things in Mekong Delta where main transportation means are boats and sampans. All goods with sellers are on boats floating on the river and the only way you can buy something at the market is taking on a boat through each floating store. There you can see numerous strange things in Mekong Delta from fresh fruits to lively animals. Its a big chance for you to interact with local people who are very ingenious and friendly. The fresh and peaceful atmosphere will totally make you refresh.
4. Feed and catch fish at the fish farm. 
This region is a good natural environment for many kinds of freshwater fishes. It's best place to grow fish so that there are many fish farms in Mekong Delta which are worth a visit. There you can feed the fish with the farmer's help. They eat natural foods such as vegetables, and the banana trees and artificial foods. You can also catch fishes and cook delicious dishes from fresh ingredients. Sometimes it needs a fishing rod made of bamboo to catch snakehead fish, carp and catfish, it's not like that you go fishing in a lake or the ocean. Sweet and sour soup with fish and vegetables is one of the most popular and flavorfull home cooked dishes in Mekong Delta
5. Listen to traditional Vietnamese music
Listening to a traditional Vietnamese music and singing performance is something we relished after spending hours out on the boat or you can find the ways to houses of artists and listen to them together with locals. The soothing and distinct sound of the music along with fruit refreshments and tea helped you to cool down and recharge for the rest of the afternoon.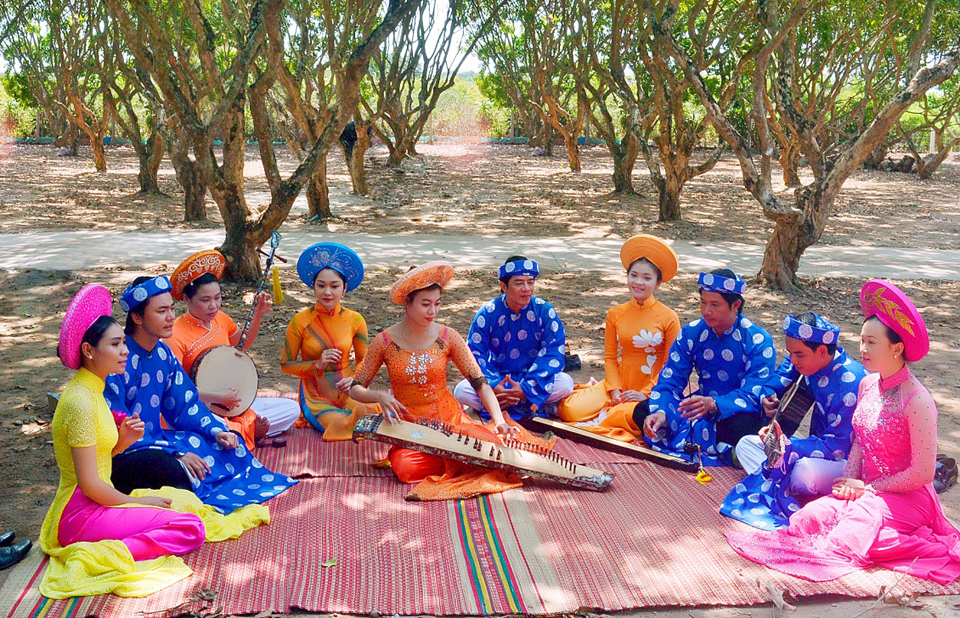 6. Eat Mekong Delta specialties
The locals are also very resourceful – coming up with different ways of incorporating these delicious fruits into dishes. For example, banana can be eaten fresh, or grilled, or covered by sticky rice then grilled and draped over with coconut milk. Coconut can be had fresh, or blended as a smoothie, or processed to become dried coconut candy. If you think you can survive on fruits for the rest of your life, you should move and stay here.
Here are the 10 best dishes found in the Mekong Delta in my opinion.
Fish noodle soup – Bun Ca
Snakehead fish thick noodle soup – Banh canh ca loc
Sa Dec or My Tho noodle soup – Hu tieu Sa Dec/ Mỹ Tho
Vietnamese pancake – Banh xeo
Salted fish hot pot – Lẩu mắm
Mud roasted chicken in the Mekong Delta
Snakehead fish rice porridge (congee) – Chao ca loc
Mud carp fish hotpot with common sesban flower – Lau ca linh bong dien dien
Durian cake – Banh pia