Vietnam is a paradise of foods and Saigon is central of that paradise. With the convergence of the foods come from three regions of Vietnam, Saigon is truly heaven of people who love Vietnamese cuisine.
BANH MI
Banh Mi is the popular street food in Vietnam, is the term referring to the Vietnamese baguette stuffed with meat, vegetable, butter, one or two tablespoon of meat sauce and chili sauce. Banh Mi is so flavourful, personalised and might easily satisfy anyone's taste and preference.
The uniqueness of these Banh Mi not only lies within the french influenced baguette, but it's also the flavor packed, savory Viet fillings that what makes the marriage of the two main ingredients a true love affair.
Some places to enjoy Banh Mi in Saigon
Banh Mi Huynh Hoa : 26 Lê Thị Riêng, Bến Thành wards, district 1, TP. HCM. Open hours: 15:00 – 22:00
Banh Mi Hoa Ma : 53 Cao Thắng, District 3, Ho Chi Minh City. Open hours: 7 am – 10 am or so, until they sell out
Banh Mi 37 Nguyen Trai : 37 Nguyễn Trãi, Ho Chi Minh City (though the address is 37, it's right at Hem 39). Open hours: From around 4:30 pm – 7:30 pm each day
2. BANH XEO
A thin layer of batter is fried in a lot of oil, then combined with your choice of ingredients, often including slices of pork belly, shrimp, and onions, then folded over with a handful of lightly cooked bean sprouts in the middle.
You can really eat banh xeo however you want, but the common method is to take a few leaves of lettuce or mustard leaves, load in a piece of the golden crispy crepe, top it with some more herbs like sweet basil and perilla leaves, add some chili (or a lot of it), roll it up like a green spring roll, and then dip the entire treat into the sweet Vietnamese fish sauce dressing.
Some places to enjoy Banh Xeo in Saigon:
Banh Xeo Vuon Chuoi: 335 Dien Bien Phu, wards 4, district 3, TP HCM. Open hours: 15:00 – 20:00
Banh Xeo Dien Bien Phu: 73 Dien Bien Phu, Binh Thanh district.
Banh Xeo 46A: 46A Dinh Cong Trang street, Tan Dinh wards, district 1
Banh Xeo Ba Hai: 49 Nguyen Trong Tuyen street, Phu Nhuan district
3. BUN MAM
Bun mam is specifically a southern Vietnamese dish. The base of any bowl of bun mam (bún mắm) is a dark colored broth prepared with fermented fish sauce. The fermented fish sauce gives the soup broth a well rounded, balanced flavor, and it's honestly not nearly as fishy as it might sound or smell.
Along with the broth, bun, or rice vermicelli noodles, are loaded into the bottom of the bowl, before the entire assortment of meats like squid, prawns, and pork are all scattered on top of the noodles.
Some places to enjoy Bun Mam in Saigon:
Bun Mam Phan Boi Chau: 22 Phan Bội Châu, across from Ben Thanh market, Saigon
Bun Mam 144 : 144 Khanh Hoi, district 4
Bun Mam ABC : 13 Ngo Tat To, Binh Thanh district
4. BUN THIT NUONG
The dish normally begins with a handful of chopped up herbs and lettuce at the bottom of a bowl, then in goes fresh rice vermicelli noodles (similar to Thai khanom jeen noodles), then a few skewers of grilled pork are layered on that, and finally a sweet and salty fish sauce, and a scoop of oily chives and green onions, and pickles are all added on top.
If you get the bun thit nuong cha gio, in addition to everything already mentioned, you'll also get a fried spring or two chopped up on top, which bumps the delicious-meter up another notch.
Some places to enjoy Bun Thit Nuong in Saigon:
Bun Thit Nuong Chi Thong: 195 Cô Giang, District 1, Ho Chi Minh City. Open hours: 7 am – 10 pm daily
Bun Thit Nuong Anh Ba: 126 Le Van Sy, wards 10, Phu Nhuan district
Bun Thit Nuong Vi Sai Gon: 487 Nguyen Tri Phuong, district 10
5. BANH CUON
Banh cuon, which directly translates to rice cakes, are sort of like noodle wrapped, non-deep fried spring rolls, packed full of savory ingredients.
To prepare the recipe for banh cuon, a thin layer of rice and tapioca flour batter is steamed into a noodle like crepe. It's then filled, often with a combination of lightly seasoned minced pork, small dried shrimp, and wood-ear mushrooms, and served with finely shaved lettuce and blanched bean sprouts on the side.
Finally, you can't eat banh cuon without dipping it into sweet fish sauce, known as nuoc cham, the stuff many people say is the lifestream of Vietnamese cuisine, and I personally can't live without chilies.
Some places to enjoy Banh Cuon in Saigon:
Banh Cuon Kim Khanh: 100/7 Nguyễn Công Trứ, Nguyễn Thái Bình wards, district 1
Bánh cuốn Hải Nam: 11A Cao Thắng, wards 2, district
Bánh cuốn Tây Hồ : 127 Đinh Tiên Hoàng, district 1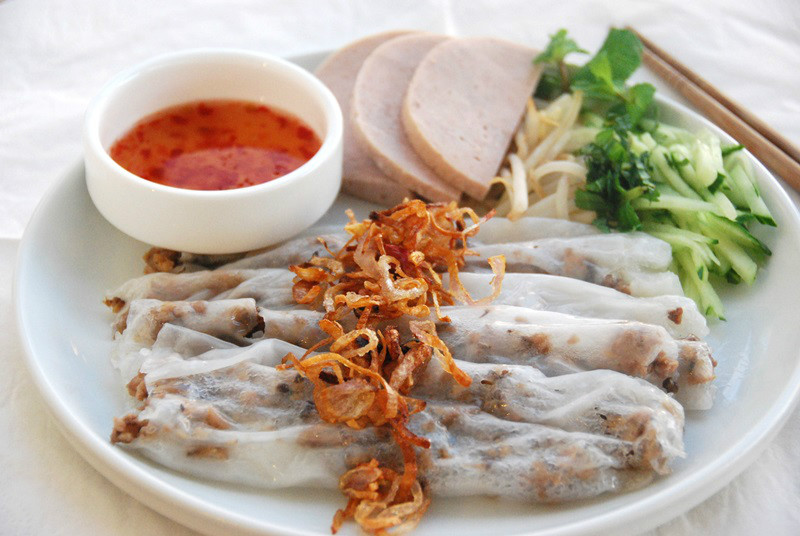 6. GOI CUON & CHA GIO
Goi cuon are made with rice paper, known as banh trang, that's slightly moistened, then filled with, typically a mixture of rice vermicelli noodles, pieces of pork, shrimp, and then stuffed with leaves and herbs like basil and lettuce before being wrapped.
Cha gio, are completely different taste-wise than their goi cuon counterparts, and they share few characteristics other than their egg roll shape and the fact that they're often sold side by side at many restaurants and street food stalls.
Some places to enjoy Goi Cuon in Saigon
77 Hòa Hưng, district 10, Hồ Chí Minh
Quan 48 : 48 Ngô Đức Kế, district 1, Hồ Chí Minh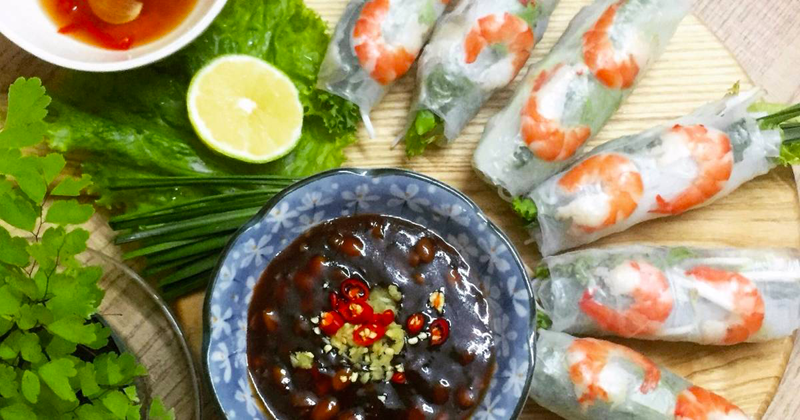 7. COM TAM
One of the most common meals I noticed throughout my stay in Saigon, especially known as a southern favorite, is the combination of rice (which is often broken rice, which are partially broken grains of rice that occur in the milling process), topped with a grilled pork chop.
The most basic version is known as cơm tấm sườn nướng, the broken rice and a thin grilled pork chop, served on a plate and accompanied by fish sauce dressing, cucumber pickles, green onion oil, and chilies to garnish.
Starting from the most basic version of com tam suon nuong, you can then upgrade with all sorts of marvelous extra things like a fried egg, Vietnamese meat loaf, pig skin, extra pork, more sausage… the list goes on.
Some places to enjoy Com Tam in Saigon:
Com Tam Vinh Vien: Vĩnh Viễn street, district 10, TP.HCM
Com Tam An Duong Vuong: An Dương Vương street, district 5
Com Tam Cali : 32 Nguyễn Trãi, Bến Nghé wards, district 1